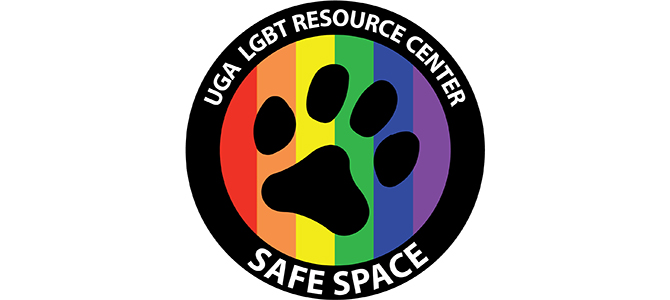 "The Safe Space program at UGA is a three and a half hour training for faculty, staff, and students who are interested in learning about gender and sexual identity, homophobia, heterosexism, and how they can provide support and work toward being an ally for the LGBT community. Upon completion of the training, participants may be issued a Safe Space sticker for their office space as a visible indicator to visitors that they are LGBTQ affirming."
Become Safe Space Trained
Click on a date below to register for Safe Space Trainings.  All trainings, unless otherwise indicated, will be held in The Intersection (3rd Floor of Tate Student Center, across from Tate Print & Copy).
Due to COVID-19, many of UGA's staff including the Pride Center's are currently working remotely so as to practice healthy social distancing and ensure that we reduce the spread of the virus. 

Because of that, and as we do not currently have the capability to give Safe Space trainings online, we are cancelling the remaining Safe Space trainings this semester for now, which includes the training that was originally scheduled for Thursday, April 16 (8:30 AM – 12:00 PM). 
Summer and Fall 2020 Dates TBA
Safe Space trainings are offered throughout the academic year. The sessions are led by two trained facilitators. To ensure an engaging and developmental experience, each training is limited to 20 participants. Our trainings often fill up fast and may have a wait list so it is very important for you to contact us if for any reason your plans change and you can no longer make the date for which you are registered. Pre-registration is required for attendance.
Participate in the Certificate in Diversity & Inclusion (University Faculty & Staff)
The Certificate in Diversity and Inclusion (CDI) creates an opportunity for UGA faculty and staff to explore strategic areas around diversity and improve their ability to contribute to the enhancement of UGA's welcoming and inclusive environment.
Enrollment in the courses listed for the Certificate for Diversity and Inclusion are open to all UGA faculty and staff. UGA employees may take courses in pursuit of the certificate or they may take individual courses based on their needs and interests.
Successful completion of the CDI requires completion of the core course and five elective courses in the program. A variety of courses will be offered each quarter and all of the courses in the program are free.
2018 - 2019 Safe Space Facilitators
This list notes individuals who have participated in Safe Space training and are Safe Space certified. This document can be searched via the "Find" feature for specific departments and/or people.
Groups of 10 or more individuals may submit a request for Safe Space session to be held for their group. For best results, please make requests at least 10 working days in advance of the intended date so that we can customize your session. Additionally, requests may be made for evening and weekend sessions pending Safe Space Facilitator availablity.