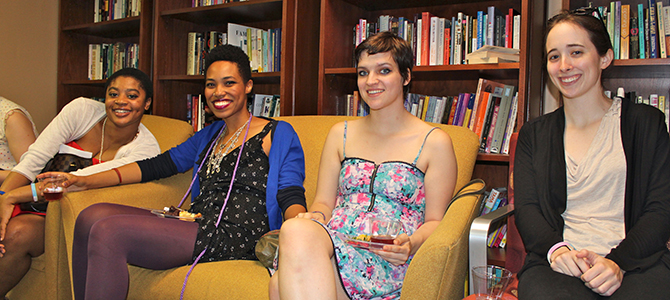 The Lunch with Leaders  program is an opportunity for students to have a meal and informal discussion with an out, LGBTQ-identified community leader who briefly shares their personal story, how they came to terms with their identity, how they have balanced their identity with other aspects of their life, and how their identity has affected their career path.
Dr. Dawn D. Bennett-Alexander, UGA Associate Professor of Employment Law & Legal Studies
Joan Prittie, Executive Director of Project Safe
Annette Hatton, Former Managing Editor of the Georgia Review
Meg Evans, Director of the Pride Center
Dr. Ken Jackson, Head Professional School Counselor (Decatur High School)
Joselyn Leimbach, Lecturer with the Institute for Women's Studies at UGA
Dr. Justin Lavner, Assistant Professor in the Department of Psychology and an affiliate faculty member in the Institute for Women's Studies at UGA.
Dr. Kadesha Evans, Director of Nursing Advantage Behavioral Health Systems (Athens, GA)
Dr. Anneliese A. Singh, Associate Professor and Associate Dean of Diversity and Equity in the College of Education at UGA.